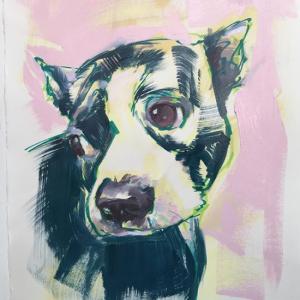 Maureen Bradshaw
Artist member since 2018
Toronto, Ontario
Maureen Bradshaw is a Toronto based artist. Her work is primarily oil on canvas. She layers lively brush strokes over a loose sketch of the animal, painting with a spontaneous energy that allows surprises of bright background colours to peer through. With a lengthy career as a creative director in the graphics business in downtown Toronto, additional training in fashion illustration at the Ontario College of Art and Design, and a love for the outdoors, she explores the individual animal's personality in each painting.
---
Best season of the year in Toronto
Spring.
Only thing you need when you leave the house
A good attitude and my sunglasses.
Beverage of choice
Water with a few strawberries.
Why is it important for people to have art in their home or life?
It gives their home inspiration, happiness and balance.
How long have you been creating art?
Officially as a career 25 years and non officially, since I was 10.
Select Past Exhibitions
2018
Nathan Phillips Square, Toronto
Toronto Outdoor Art Fair
2017
Nathan Phillips Square, Toronto
Toronto Outdoor Art Fair
2016
Nathan Phillips Square, Toronto
Toronto Outdoor Art Fair
2015
Nathan Phillips Square, Toronto
Toronto Outdoor Art Fair
SHARE THIS ARTIST